By Aaron Wilson
"He's such a good dad—watching the kids so you can get out of the house. Looks like someone sure raised him right."
Hannah nodded at her mother-in-law's comment and forced a half-smile. Yes, her husband Derrick was a good dad, but something about what her mother-in-law said rubbed Hannah the wrong way.
Hannah had been up since 5:00 a.m. preparing the kid's lunches, chauffeuring them to school, and reviewing multiplication charts for her oldest son's test. But such acts of service never seemed to impress the in-laws.
To them, being a parent was Hannah's job. It was expected. For her husband, however, it was a different story.
Derrick regularly got praised for basic acts of parenting—as if acting like a father served as an extra credit assignment.
"Why is the bar set so low for fathers?" she thought.
Setting a Standard for Dads
This experience seems to resonate with many parents. Multiple articles have been written with some variation of the title, "Dads Don't Babysit." The phrase has even been trademarked as a best-selling T-shirt design.
But this wording also carries polarizing baggage.
On one side, people lament the fact that simple acts of parenting are sometimes considered going "above and beyond" for a dad.
Others are leery of the "dad's don't babysit" movement out of concern it will be used to undermine the God-given uniqueness of mothers and fathers.
But it's not an either/or situation.
No Parent Participation Trophies
In Deuteronomy 6:7, God tells Hebrew moms and dads to teach God's Word to their children, "when you sit in your house and when you walk along the road, when you lie down and when you get up."
This assumes dads are "on the clock" as parents all the time—whether relaxing at home, shuttling kids around town, or tucking them into bed.
Men don't need special praise for doing the bare minimum of parenting in "watching" or "babysitting" their own kids.
Click To Tweet
Because of this, men don't need special praise for doing the bare minimum of parenting in "watching" or "babysitting" their own kids. That's like awarding "Employee of the Month" to someone who merely shows up for work from time to time.
Almost half of all two-parent households (46 percent) have both the mom and dad working full-time. In those homes, moms are still more likely to manage the kids' schedules, take care of them when they're sick, handle the chores, and discipline.
Men shouldn't receive exaggerated kudos for emptying the dishwasher, bathing the kids, or doing laundry. These aren't extraordinary feats of parenthood; they're simply part of what it means to be an adult.
Yes, spouses should show appreciation to one another for performing common acts of service. My wife and I tell each other thanks all the time for small things done around the house.
But there's a way to show gratitude that doesn't involve lowering expectations of what God calls men to do to serve their families.
God Doesn't Babysit
Instead of offering outsized praise to dads who do everyday parenting tasks, why not hold fathers to a higher standard?
God doesn't call fathers to be coddled. Nor are men to be graded on a curve that sets up bumbling sitcom dads as the benchmark of manhood.
No, fathers bear one of the weightiest callings imaginable—to emulate the qualities of God the Father to a watching world, particularly their children.
The real reason dads don't babysit their kids is not because a T-shirt says so; it's because God doesn't babysit His children.
God the Father doesn't occasionally moonlight as a dad after He's finished ruling the world for the day. It's part of His nature to be present and actively engaged in the life of His family.
He's always leading,
always caring,
always listening,
always serving,
always checked into His role as Abba.
Earthly fathers are to serve as pictures of God the Father. If we want them to mature, we must stop framing doodles and stick figures as masterpieces. It emasculates fathers when we expect less out of them than what God intends.
Men, we can do better than to expect praise for "babysitting" or "watching our kids."
As fathers, let's aim higher for the sake of our families and the glory of God.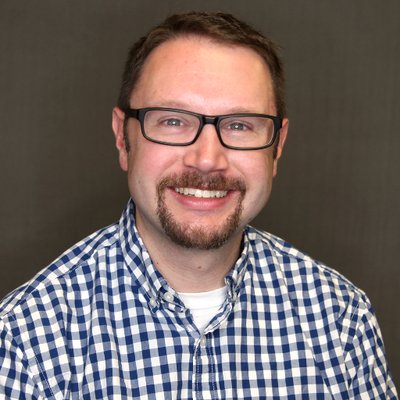 Aaron Wilson
Aaron is associate editor of LifewayResearch.com.
Dig Deeper at Lifeway.com