By Aaron Wilson
Paradox: A seemingly absurd or contradictory statement or proposition which, when investigated, may prove to be well founded or true. –The Oxford Dictionary
As a Christian who trusts in the infallibility of Scripture, I believe the Bible is 100 percent trustworthy and without error.
However, God's Word contains many paradoxes—statements that appear contradictory on the surface when paired next to one another.
Understood in context, such statements complement one another to reveal a more full picture of truth. But when pulled out of context—say, as a proof text for an opinion shared on social media—these snippets of Scripture can be misunderstood, twisted, and stripped of their true meaning.
To guard against this, here are 14 paradoxical Scripture pairings every Christian should be aware of. Underneath each pair, we've included application questions that can be fleshed out in a sermon or in personal or small group study.
Paradox #1: Worthless workmanship
"We are worthless servants." (Luke 17:10)
"We are his workmanship." (Ephesians 2:10)
Application questions: How does an understanding of the gospel reveal both statements are true—that people are both worthless and a workmanship? How should Christians think about themselves in relation to God? What is a Christian's worth tied to?
Paradox #2: Longingly satisfied
"Blessed are those who hunger." (Matthew 5:6)
"No one who comes to me will ever be hungry." (John 6:35)
Application questions: As believers await Christ's return, how are they to process their current state? In what ways are Christians to hunger and thirst in the present? In what ways are they to be satisfied and rest in God's provision?
Paradox #3: To yoke or not to yoke?
"Take up my yoke and learn from me." (Matthew 11:29)
"Don't submit again to a yoke." (Galatians 5:1)
Application questions: How does Christ's yoke differ from the yoke of the law? How do Christians practically live under the tension of being free from certain aspects of the ceremonial law while imitating Christ who perfectly obeyed the law?
Paradox #4: The role of works
"A person is justified by faith apart from works of the law." (Romans 3:28)
"A person is justified by works and not by faith alone." (James 2:24)
Application questions: What false gospels are each of the above verses warning against? What's the relationship between faith and works in the life of someone who has been justified?
Paradox #5: The Christian life—easy or hard?
"My yoke is easy." (Matthew 11:30)
"How difficult the road that leads to life." (Matthew 7:14)
Application questions: What should believers expect out of the Christian life—is it easy or difficult? How should a proper understanding this paradox affect the way Christians process the realities of everyday life?
Facts & Trends has written about the implications of this paradox here.
Paradox #6: Who's the judge?
"The Father judges impartially according to each one's work." (1 Peter 1:17)
"The Father, in fact, judges no one but has given all judgment to the Son" (John 5:22)
Application questions: What do these passages reveal about Christ as high priest and king?
Paradox #7: Optimist, pessimist, or realist?
"Everything is futile." (Ecclesiastes 1:2)
Everything is meaningful—"Whatever you do, do everything for the glory of God." (1 Corinthians 10:31)
Application questions: What is the meaning of life found in? How does the current state of the universe reflect the realities of both the curse and the Kingdom of God that's breaking into the world?
Paradox #8: Going public with good works
"Let your light shine before others, so that they may see your good works." (Matthew 5:16)
"Be careful not to practice your righteousness in front of others to be seen by them." (Matthew 6:1)
Application questions: How should Christians go about doing good works? Is it OK to post on social media when you're having devotions or going on a mission trip?
Paradox #9: Give up your tunic; withhold your pearls
"Give to the one who asks you." (Matthew 5:40-41)
"Don't toss your pearls before pigs." (Matthew 7:6)
Application questions: How are Christians to steward God's resources? What differentiates a steward from a philanthropist or a hoarder? Under what circumstances could it be right to not give to someone who asks?
Paradox #10: Testing God
"Test me in this way." (Malachi 3:10)
"Do not test the Lord your God." (Luke 4:12)
Application questions: What does it mean to test God? How are these commands motivated by faith?
Paradox #11: Is Christ a peacemaker?
"He will be named…Prince of Peace." (Isaiah 9:6)
"Don't assume that I came to bring peace." (Matthew 10:34)
Application questions: How does the gospel bring peace but also divisiveness? What peace did Christ bring at this first coming? What peace will Christ bring at His second coming?
Lifeway Voices has written about the implications of this paradox here.
Paradox #12: Judging the rightness of judging
"Do not judge." (Matthew 7:1)
"Judge according to righteous judgment." (John 7:24)
Application questions: In what context and frame of mind is it appropriate to judge? When is it wrong? Is "judge not" a trump card that can be pulled out anytime a person is challenged by someone?
Paradox #13: Wise dealings with fools
"Answer a fool." (Proverbs 26:5)
"Don't answer a fool." (Proverbs 26:4)
Application questions: How and when should Christian engage foolish talk and actions? How should these verses guide social media interactions?
Paradox #14: The reason for Christ's coming
"I did not come to judge the world." (John 12:47)
"I came into this world for judgment." (John 9:39)
Application questions: What was the purpose of Christ's first coming compared to His second coming? How does an understanding of the gospel narrative reveal both of Christ's statements are true?
The power of paradoxes
Understanding the many paradoxes of Scripture isn't an easy task. It requires serious study and a familiarity with the grand narrative of Scripture.
But as Christ indicated in His dialogue with Satan in the wilderness, a proper understanding of biblical paradoxes equips one to counter the enemy's twisting of Scripture with the informed reply, "It is also written…" (Matthew 4:7).
Unfortunately, this becomes complicated by the fact that today's world is often driven by a sense of immediacy that bleeds into expectations of theology.
In a society categorized by fast food, live streaming, and same-day shipping, it's difficult to embrace complex truths—ones that require meditation, wrestling with Scripture, and engagement within a biblical community where iron can sharpen iron (Proverbs 27:17).
Nevertheless, it's worth it to press into the challenging parts of Scripture. Consider how you might engage your church community to dive into such paradoxes—Scripture pairings designed by God to reveal deep truths about Himself and His people.
What other biblical paradoxes have you encountered?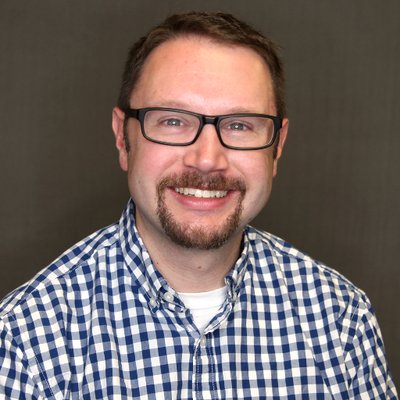 Aaron Wilson
Aaron is associate editor of LifewayResearch.com.
Dig Deeper at Lifeway.com