By Aaron Wilson
Many potential guests—especially those of younger generations—now decide whether or not they'll visit a church based on the initial experience they have with a church website. For this reason, it's essential churches maintain a welcoming and informative digital presence.
Faith Perceptions is a ministry that deploys mystery guests to churches and their websites to help leaders see aspects of their ministry through the eyes of a visitor.
Faith Perceptions shared the following church website feedback from mystery guests—insights that reveal six questions visitors likely have as they check out your church online.
1. Does this church care?
Mystery Guest A: "The church's website was very informative and innovative. All the information tabs were working and each was very descriptive of the church's ministries and groups."
Mystery Guest B: "I had to make sure I was on the correct site because the information on it was so dated. I was disappointed to see Christmas information on the front page of the website when it's close to Father's Day."
First impressions of your church will flow from how a visitor feels the first few seconds they land on your website. Dated information, drab graphics, and dead links, tell visitors the church is apathetic in going about its ministry to the glory of God—in the same way an overgrown lawn and decrepitated facility would say the same to a person who pulls up to your church in person.
On the other hand, a well maintained website tells guests the church wants to model excellence in all they do. In today's digital age, the care that goes into a church website is indicative of how guests expect to be treated when they actually visit your church.
2. Can you show me the church instead of just tell me about it?
Mystery Guest A: "I was able to get an overall impression of the church based on the website. It was very colorful, and the pictures of the congregation and special events were current."
Mystery Guest B: "To be blunt, the website was pretty boring. There was only one mediocre picture of the exterior of the building. I would add more graphics to the website, keeping in mind that a picture is worth 1,000 words."
The online world is visually stimulating. While it's easy to overdo it with pictures and graphics, most churches err by not including enough images on their website. Guests want to see pictures of the facility, the staff, and the church in action.
While text is important in communicating the church's mission, history, and theological distinctives, pictures help guests envision what it would actually be like to visit a service and meet its people.
3. Where do I go?
Mystery Guest A: "There was a link at the top of the home page labeled 'I'm New.' It was full of helpful information."
Mystery Guest B: "I found the site to lack information. It was not helpful for a first-time guest."
One of the clearest signs of digital hospitality is being told where to go when you land on a website. Guests don't want to have to scroll to the bottom of a page to learn when the church meets. Nor do they want to dig through multiple tabs to find out what they should expect when they visit.
Help your web visitors quickly feel at home by including a focal point on your homepage and an obvious link that directs them to FAQs. It doesn't matter if you label this button "I'm New," "Learn More," or something else. Just make sure you make clear to guests what you want them to click on first.
4. Does this church love my community?
Mystery Guest A: "I like how the website included a section about some of the church's outreach efforts and how to get involved."
Mystery Guest B: "I wish there were pictures of the church in action with community involvement. None of the photos had a caption telling me who and what was in the photo. Since there were no captions, I didn't know if it was just members pictured or if the church was involved in the community."
When a guest checks out your website, they're not just looking to see what it would be like to attend your church; they're also curious about what it would be like to be plugged in there. Create a section of your site that lists various ministries and the ways people can use their gifts at your church.
Also, demonstrate what kind of outreach events and community service opportunities the church provides. As Mystery Guest B points out above, don't haphazardly dump photos of church life on the site. Be intentional about the story you're choosing to tell and include captions on photos to assist your website guests in interpreting photos.
5. What's in store for my children?
Mystery Guest A: "The website had clear information about children's services—the time they meet and the age ranges they involve."
Mystery Guest B: "No tabs on the site acknowledged having a children's or youth ministry."
Parents of younger kids want to know what to expect from your children's ministry. You'll certainly want to list information about when and where your kid's ministry meets, but also consider providing pictures of leaders, facilities, and even the curriculum the church uses.
Most of all, parents want to know their kids will be safe and cared for at your church. Use your website to give an idea of what check-in and pick-up procedures look like in your children's ministry and list information about general safety policies you have in place.
6. What's happening in the life of this church?
Mystery Guest A: "I could easily pull up the newsletter or view a calendar of events. I believe this is encouraging for a new guest because it shows the church isn't stagnant."
Mystery Guest B: "The calendar and announcements were from months ago. It seems their website has been abandoned."
If your church uses a newsletter, calendar, or weekly bulletin, include links to these resources on your site so guests can peek at what's going on in the life of your ministries.
Just make sure to put an individual or a team in charge of updating this information each week. An obsolete online calendar is worse than having no calendar at all.
Welcoming digital guests
To new faces, the most impactful representation of your church may not come from your welcome team, but your website. Take steps to roll out the carpet for your digital guests to turn virtual visitors into Sunday morning attendees.
For more information about Faith Perceptions and their Mystery Guest Program, visit FaithPerceptions.com.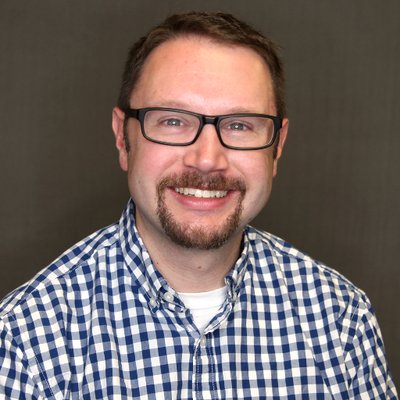 Aaron Wilson
Aaron is associate editor of LifewayResearch.com.
Dig Deeper at Lifeway.com