By Aaron Wilson
I'm a committed church member who is present at every Sunday gathering, loves Jesus and His bride, and is passionate about ministry.
Most days, however, I don't look forward to going to church.
While this disconnect may sound strange on the surface, the rationale behind it is pretty simple. Like many people, I struggle with social anxiety.
Although I can hold my own in a conversation, it's extremely taxing for me to spend time in settings that require extended mingling and the making of chitchat.
As such, I often grimace going into Sunday morning gatherings where I know I'll be bombarded with opportunities for social interaction.
I also know I'm not alone in this. While I don't struggle to the degree of having social anxiety disorder, approximately 7% of the population does experience this challenge.
And increasingly, I've had conversations with other Christians who say their social anxiety makes gathering with fellow believers feel more like an obligation than an opportunity.
How can the church respond to the struggle many people like myself face? Here are three suggestions to help members and guests who deal with social anxiety feel more comfortable and involved within the body of Christ.
1. Structure the service wisely.
One part of a church service that can be extremely uncomfortable for those with social anxiety is the stand-and-greet time. In churches I've been a part of, I've seen these last anywhere from 30 seconds to 15 minutes (in rare cases).
Even for those who don't experience social anxiety, stand-and-greet times can be perceived as awkward and unnatural. In his book, Becoming a Welcoming Church, Thom Rainer reports that 9 out of 10 guests state they dislike stand-and-greet times in church services.
Since stand-and-greet times aren't prescribed in Scripture, don't seem to be popular with guests, and create a struggle for those dealing with social anxiety, it's worth considering if the practice serves a helpful purpose or if it presents an unnecessary burden to some.
2. Don't look for sin where it isn't.
Christians dealing with social anxiety already feel awkward entering a church gathering. It's important, therefore, for church leaders to avoid making them feel even more uncomfortable by automatically labeling their struggle a sin problem.
It's true Jesus instructs believers not to be anxious (Matthew 6:25-27). Christ's motivation for doing so, however, stems from compassion, not accusation.
Unfortunately, it's become popular for some preachers to come down hard on what's labeled "the fear of man." I've sat under leaders who've preached that being anxious around people is a form of idolatry that demonstrates Christ isn't one's first love because, "if we fear God rightly, we won't fear people."
While social fear is certainly a result of the curse—one I look forward to the removal of in heaven—its presence doesn't necessarily indicate sin in one's life. Instead, social anxiety can simply reflect the brokenness of our bodies and the world at large.
Christians facing social anxiety need encouragement from the body of Christ, not condemnation for their struggles. The fact that they show up at church, despite how uncomfortable it makes them feel, demonstrates a dying to self that brings Christ glory.
As an example of how this can be mishandled, I once had a pastor tell me his shepherding of God's flock required him to observe when people show up at church and note who they talk to during the break (or the stand-and-greet time) and how long they chat.
"If someone leaves as soon as service is over and doesn't hang around to talk," he told me, "it makes me wonder what's going on in their heart."
While I believe this pastor had good intentions in caring for his congregation, his overbearing approach in this area demonstrates how legalism can creep into churches and place an undue burden on people already struggling with social interaction.
Sometimes, people who are socially anxious at church just need to be given the freedom to breathe in a place where it's OK to come to Christ as broken, struggling people.
3. Don't confuse social clout with leadership potential.
The world often ties leadership to charisma. The Bible, however, more closely links leadership with character.
When too great of an emphasis is placed on the former, the church risks propelling people into leadership positions based on their social clout alone.
I experienced this once when a pastor told me his church would never grant leadership responsibility to someone who didn't possess a magnetic personality because "a leader must be able to demonstrate they have followers."
A charming disposition and social following, however, doesn't always equate to a leader after God's own heart.
Christians dealing with social anxiety can easily get overlooked for leadership positions in the church because they're more private and aren't naturally "people persons." Yet, it's through such weaknesses that God often showcases His glory to the world.
Moses, one of the greatest leaders of the Old Testament, needed his brother to help him with public speaking. Absalom, on the other hand, was an incredibly charismatic individual who "stole the hearts of men," but did so with self-serving intent (2 Samuel 15:6).
The point is that in God's Kingdom, natural charisma and social dexterity shouldn't be prerequisites for leadership. Saints who struggle with social anxiety often make up for it by being strategic, insightful, and empathetic toward others—all qualities of a good leader.
Although Christians with social anxiety may get nervous in certain social settings like gathered worship, many desire to serve the church and aren't adverse to certain types of leadership roles.
Additionally, such areas of service are often means of grace God uses to help people combat their fears and grow in discipleship.
For these reasons, churches shouldn't pack their leadership teams with only loud and compelling personalities. Instead, the church should look for ways to empower and develop saints in the congregation who struggle with social anxiety but desire to bless others with their spiritual gifts.
One Body, Many Parts
For those who don't experience social anxiety, understand there are brothers and sisters in Christ who truly love the church but struggle to gather with her joyfully—and that's OK.
Thankfully, this is exactly what God has created His church for—to be a body made up of many parts that supports its members where they're weak.
I look forward to the day when Jesus will wipe away every bead of sweat attributed to anxiety. Until then, those of us who struggle in social settings are to keep faithfully pressing into the local church, trusting that God will receive glory as His strength is made perfect in our weakness.
"The eye cannot say to the hand, 'I don't need you!' Or again, the head can't say to the feet, 'I don't need you!' On the contrary, those parts of the body that are weaker are indispensable." -1 Corinthians 12:21-22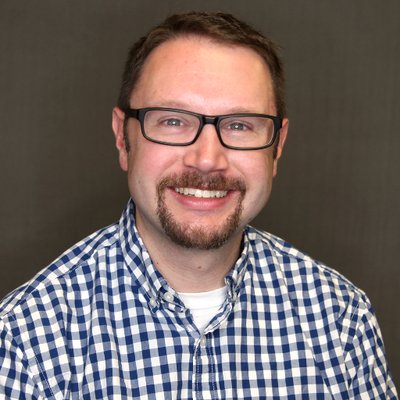 Aaron Wilson
Aaron is associate editor of LifewayResearch.com.
Dig Deeper at Lifeway.com