By Marissa Postell
It seems like communication should be a pretty simple, straightforward thing. Most of us started speaking when we were around a year old and have continued to develop our abilities to think, speak, and communicate since then. By the time we reach adulthood, we should be pros at communication, right?
Not necessarily.
Communication is challenging, and pastors aren't exempt from this challenge. Andy Dukes, director of communications at Redeemer Church in Hendersonville, Tennessee, says communications teams are a great asset to churches both small and large and help share the pastor's burden of communicating well with the whole church. That team can consist of people who full-time, part-time, or volunteer.
Communications teams are a great asset to churches both small and large and help share the pastor's burden of communicating well with the whole church.
Click To Tweet
Dukes began leading communications at the church part-time when it was planted, and continues to do so more than 10 years later. And he's learned some things along the way that can help pastors and church communications teams navigate ministry together.
Lifeway Research: What are you responsible for in your part-time role as director of communications at your church?
Andy Dukes: While only serving a small number of hours, I'm responsible for our overall brand and brand positioning, website development and administration, email marketing and communication workflows, sermon podcast production, and visuals for our main campus (whether that's signage or digital visuals during services). Although I'm responsible for these buckets of work, I'm grateful to lean on other staff and volunteers to pull everything off. I certainly couldn't do it without them.
LR: How have the church's communications needs stayed the same, and how have they evolved as the church has grown.
AD: While most of our needs haven't changed regarding scope, the depth and quality of what we do has increased. As we've seen our church steadily grow through the years, we want to maintain the various communication channels and quality levels, while finding places we can move toward more scalable solutions.
LR: What were a few communications technology tools you found helpful in the early days of the church?
AD: In the early days of our church, our website provider, Church Plant Media, was critical for helping us get up and running. They provided a great templated website that met our needs but didn't require hands-on development. It helped shape how we'd manage our sermon podcasts so that regular attenders, members, and visitors could connect with our primary content throughout the week. We had to sacrifice our "customized" requests and the ability to change certain components of our website in exchange for a well-maintained and supported site that didn't require constant attention. We also quickly realized we needed software to help us keep track of all the people and activities in our church. We initially landed on Church Community Builder.
LR: How have you kept up with the church's changing communications needs as the church has grown?
AD: As our congregation grew, we could no longer simply make an important announcement from the stage and expect everyone to comprehend and remember what was communicated. We could get away with that as a small congregation of 50-100 people. At the time, apart from our Sunday morning services, kids ministry was the primary ministry we focused on, ensuring we had clear procedures and an event calendar in place for this critical ministry area. But as we grew, we had to become more strategic with not only what we shared but also how we shared it.
As your church grows, you have to become more strategic with not only what you share but also how you share it, says @adukes.
Click To Tweet
We couldn't wait until the last minute to share information and communicate with our people. We had to develop a multi-channel strategic approach that recognized different people will be reached in different ways. This required a mental shift. But with limited staff and a relatively small church, we couldn't afford to heavily invest in it. So the tension and challenge of wanting to get better at communication (as an effort to connect our people to each other and to our church) but not having someone devoted to this effort full-time remained.
LR: Are there any different communications technology tools that are helpful for you for where the church is now?
AD: The big one that stands out is email and SMS communication. With the number of people in the church growing and the desire to have personalized messages delivered to the right groups of people, I knew we needed a more automated solution that would also be deeply integrated with our Church Management System (ChMS), and for us, MailChimp quickly rose to the top.
In 2015, we began using MailChimp as our email marketing platform and have been using it ever since. This, along with a change in our ChMS (now Planning Center) and the addition of Clearstream in 2020, allowed us to easily connect our database and email lists or SMS lists. These tools automatically keep up with people in our church as they move through our assimilation workflow. We always have updated segments of people so we can quickly deliver any message to any user based on the criteria we need—and deliver beautiful, professional, yet clean emails to our people. We think that's important.
LR: What are communications needs most churches face, regardless of differences in size or location?
AD: The primary communication needs we have (and other churches also face) revolve around first impressions and ongoing connection to our church. This plays out most visibility in the digital realm. Our website and social channels play a pivotal role in helping people connect with what God is doing at our church.
We want our people to be both inspired and accurately informed when they receive communication from us. — @adukes
Click To Tweet
We want our people to be both inspired and accurately informed when they receive communication from us. That principle is the same regardless of the size or location of any given congregation. Obviously, the day-to-day implementation of that strategy will be different for each church, but at the end of the day, that should be the goal of any communications team at any church.
LR: Why is it important for pastors to have a communications team (whether paid or volunteer)?
AD: As a communications team, it's part of your role to help those connecting with your church understand not only what you believe and why you believe it but also the practical implications of those beliefs and how believers connect to build community around those beliefs. So, in everything from ensuring your sermons are accessible to helping people understand how to connect with your church outside of a Sunday, I believe churches need a communications team to help pastors think through varying strategies to present a concise, clear, and consistent message.
LR: Do you have any tips for how pastors and communications teams can support one another in ministry?
AD: It's critical to set expectations from the outset. Each pastor is equipped and wired differently. Some want to be involved in a hands-on way with communications at their churches. Others would love nothing more than for someone to come in and own that work for them, understanding there's alignment regarding the tentpoles of communication (such as language and words used, theological perspectives, etc).
So as a communication team is being formed, it's critical to get on the same page with your pastor related to what the domain of communication encompasses and how this work will be accomplished. It's also good to set a rhythm for connecting and assessing the work. Tools, strategies, and approaches can shift rapidly, and there needs to be someone with a pulse on this activity to determine when it's appropriate to shift your strategy amid the constant flood of distractions, messages, and information.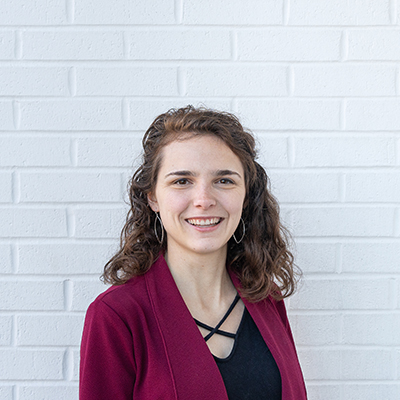 Marissa Postell Sullivan
Marissa is the managing editor for LifewayResearch.com.
Dig Deeper at Lifeway.com