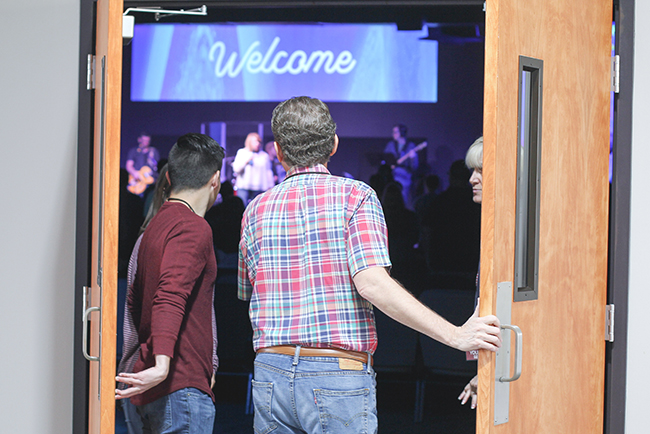 More churchgoers shopped around with different congregations during the pandemic. Some made a church switch. What factors led to those church shopping decisions?
By Aaron Earls
While many types of shopping were limited by the COVID-19 pandemic, one type became more prevalent—church shopping.
At the height of the pandemic, in October 2020, researchers Nicholas Higgins and Paul Djupe surveyed American churchgoers. They found more than a third (35%) reported visiting another congregation in person or online in the previous six months, according to their report published in the Journal for the Scientific Study of Religion. That would indicate a higher-than-normal amount of churchgoers who at least explored other churches. A pre-pandemic study from Pew Research found about half of Americans (49%) said they had looked for a new congregation at some point in their entire adult lives. And moving to a new location was the primary reason for this search (34%).
Of those who were attending a church in spring 2020, 18% reported no longer attending that same congregation by October. Again, that is higher than the pre-pandemic church-switching rate by 4 to 5 percentage points.
More than a third of American churchgoers (35%) reported visiting another congregation in person or online during the pandemic, according to a study in the Journal for the Scientific Study of Religion.
Click To Tweet
As of early 2022, Lifeway Research found U.S. Protestant churches were open at pre-pandemic rates but had only seen around 3 in 4 pre-pandemic churchgoers return. Some of those simply stopped attending, and some switched to other local congregations.
What factors lead to churchgoers shopping and switching during the pandemic? The research found several influences.
Most likely to shop
One of the primary factors in a churchgoer's likelihood of at least looking at another congregation during the pandemic was whether their church was closed for in-person worship services. Lifeway Research found that among Protestant churches, fewer than 10% were physically gathering by the end of March 2020. But 87% were holding in-person services by September.
According to Higgins and Djupe, church shopping rates were relatively steady among churchgoers at congregations that were open. Regardless of size, open congregations saw around 20% of congregants participate in church shopping. Among those that were closed, however, church shopping rates increased with the size of the church. Those at the smallest churches, with fewer than 50 in attendance, shopped at a rate similar to open congregations, slightly above 20%. Among those at closed churches with more than 1,000 in attendance, however, almost 60% said they visited another church in the previous six months.
Regardless of size, churches that were open during the pandemic saw around 20% of congregants church shop. Among those that were closed, however, church shopping rates increased with the size of the church.
Click To Tweet
Another factor that increased church shopping was offering online worship. Pre-pandemic, 41% of Protestant churches offered no online video content from their worship services, according to Lifeway Research. By March 2020, just 8% said the same. As of early 2022, more than 9 in 10 have continued to offer some form of online video worship services. But Higgins and Djupe found the increase in video offerings has allowed more churchgoers to shop. Almost half of those who attended congregations that offered online worship visited other churches (46%). But just 21% of those at churches without online options did. That could be influenced by church size, however, as smaller churches are less likely to offer live-streaming options and were also less likely to have churchgoers shop around.
Denominational affiliation, or more specifically lack thereof, also played a role in church shopping likelihood. Around 1 in 5 denominational evangelicals (22%) and mainline Protestants (17%) said they looked at other churches. But twice that many nondenominational Christians (40%) church shopped.
Other factors that lead to an increased likelihood of church shopping during the pandemic include an embrace of a prosperity gospel ideology, higher education, attending church more frequently, and increased partisanship as both highly partisan Republicans and Democrats were more likely to switch than political independents.
Most likely to leave
Church shopping itself didn't make a churchgoer significantly more likely to leave their congregation, according to Higgins and Djupe's study.
Many other factors that contributed to the likelihood of church shopping don't appear to be factors for leaving a church. These include attendance rates, congregation size, canceled in-person services, or being part of a non-denominational church.
Other characteristics that made shopping more likely appear to make leaving less likely. These factors include higher education, increased partisan strength, and prosperity gospel belief.
One factor did make one likely to leave—a feeling that the attendee disagreed with their congregation on President Donald Trump. When the churchgoer felt they and their church had opposing views on Trump, their probability of leaving the church increased by 13%.
One factor that contributed to the likelihood a churchgoer switched churches during the pandemic—a feeling that the attendee disagreed with their congregation on President Donald Trump.
Click To Tweet
In the case of disagreement over Trump, however, the rates of leaving were directly connected to how involved the churchgoer was prior to the pandemic. Among those with the highest attendance rates, the rate of both church shopping and church switching stayed the same across all levels of perceived disagreement over Trump. Among those with the least attendance, however, the more they felt their congregation perceived Trump differently than they did, the more likely they were to shop for a different church and leave their current church. In fact, more than half of those who attended the least and had the highest level of perceived disagreement with their congregation over Trump left that church.
What to do
The pandemic altered churchgoing habits and increased the likelihood that people saw other options as just as good as being active in their local congregations, according to the 2022 State of Theology study. At the beginning of the pandemic in 2020, 58% of all Americans and 39% of U.S. evangelicals by belief said worshipping alone or with one's family is a valid replacement for regularly attending church. In 2022, that jumped to 66% of Americans and 54% of evangelicals by belief.
In many ways, the COVID church dropouts are similar to those who drop out during the transition to young adulthood. And there are ways to win back these new church dropouts. But to stem the tide of those leaving now and in the future, the answer doesn't appear to be wasting time worrying about those who view services at other churches.
During the pandemic, and possibly even now, many seemingly watched church services with no intention of leaving their current congregation. Again, the research found no real connection between church shopping and leaving your congregation. Personally, I watched the services of a church planter friend in another state some mornings before going to our church.
The deeper churchgoers are involved in a congregation the less likely they are to leave, regardless of whether they ever visit another church.
Click To Tweet
The biggest factor seems to be relational ties within the congregation. If a person is active and involved, all other factors don't appear to move them much. Pastors and church leaders should prioritize increasing the commitment level of those at their church. The deeper churchgoers are involved—increased attendance, small group involvement, volunteering, etc.—the less likely it appears they are to leave.
"At least for now, the results suggest a considerable degree of congregational resilience in the face of overwhelming pressure," the report concludes. Your church has suffered a shock to the system and probably lost some people. But you have endured and the people who remain are probably more committed than ever. As you move forward, work toward strengthening the ties of current churchgoers even more and assimilating new attendees quickly.
Aaron Earls
Aaron is the senior writer at Lifeway Research.
Dig Deeper at Lifeway.com