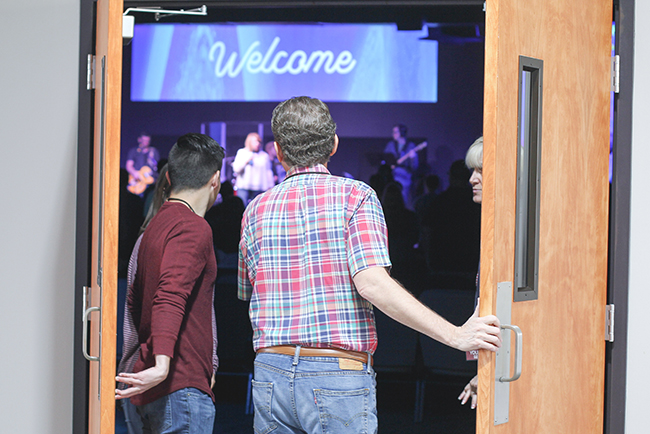 By Danny Franks
"Let me get a little information from you."
Those eight words strike a mixture of fear, cynicism, and anger in many of us. Whether we're getting a frequent shopper card at our grocery store, starting a gym membership, or even adding a line to our wireless plan, there's something about giving up our personal information that just feels invasive.
That's why we need to put the control back into the hands of our church's first-time guests. It's a tricky situation, because we can't follow up with guests if we don't have contact information. We can't build a relationship with guests if we don't follow up. And we can't help them start a relationship with Christ if we don't build the relationship with them. Think about it: most—if not all—of their future discipleship depends on our present stewardship of capturing good information.
Most—if not all—of a guest's future discipleship at your church depends on your present stewardship of capturing good information. — @LetMeBeFranks
Click To Tweet
So if a guest's information is personal, and asking for that information can feel invasive, how do we ask in a way that puts them in the driver's seat?
Start with the right posture.
Let's be clear: our guests don't owe us anything. They don't have to make themselves known. They're not obligated to take a next step. They don't have to produce a single digit of a phone number or letter of an email address.
If we're capturing information for us, our guests will feel that. If we're trying to build our mailing list or hassle them to join a volunteer team two days after their first visit, those actions will come across as strong-armed sales tactics.
But if we're gathering information for them, it changes the game. If we genuinely want to give them a helpful next step, it nudges us to ask for the bare minimum. It prevents us from being pushy. It reminds us to be good caretakers of their trusted data.
If we're capturing information for us, our guests will feel that. But if we're gathering information for them, it changes the game. — @LetMeBeFranks
Click To Tweet
Starting with the right posture is one thing. But continuing with the right method of information collection is another. Here are three ways that might be helpful to help your guests connect:
Physical information card
Probably the most widely-used method, the paper card is still an effective standby. Many churches make this a central feature of their seatback pocket, right beside the hymnals and Bibles.
The card can be dropped in an offering plate or turned in after the service. It's a way for a guest to make themself known without getting caught up in conversation.
Walk-up station
Whether it's a welcome center, a first-time guest tent, or a next steps table in the lobby, giving guests a before- or after-service way to connect is helpful.
These stations are obvious on-ramps that should be talked about each week during the service. That way, when a guest is ready to shed anonymity, they know how to do so. The same information can be captured and should be paired with a small gift or resource as a thank you.
Digital information card
Several years ago, I was having a conversation with a group of staff members in their twenties. They laughed about our "walk-up station," our first-time guest tent. On their first visit, they bypassed the tent and said they knew we were just doing an info grab.
I pressed them on their desire to get involved, and one of them said, "If I could've just texted you my info, I would've done that in a heartbeat." Now, think about the irony of that for a moment: they'd gladly give up their info in a faceless interchange; they just didn't want to stop by the tent to do so.
That conversation ultimately led to a text messaging system that allows a guest to text a specific keyword to a specific number. We highlight that in each service through announcements, slides, and even QR codes strategically positioned around the facility.
Less is more
The key to any of the above approaches is minimalism: I've found that the more information I ask for on a card, the less I ultimately get. On the flip side, just a few lines asking for a name and preferred contact information (email or phone number) gets fully filled out.
Ask yourself, "What are we actually doing with the information we're getting?" If you don't need a guest's home address, don't ask for it. There's no need to ask for their occupation, the last church they attended, or their mother's church of membership (all of these are actual blanks I've seen on real church info cards).
You're being trusted. Don't blow it.
When a guest gives you their information, there is an implied assumption that you are going to do something with that info: you're going to call, or send a note, or shoot them a text to invite them back.
According to a Lifeway Research study, to connect with guests, a majority of pastors say they ask guests to complete cards (83%), have a central location where guests can learn about the church (78%), set aside time during the service for regular attenders to welcome guests (69%), or periodically host information sessions for new people to learn more about the church (65%). But only 1 in 10 churches say they also follow up by mail, with a personal visit, with a phone call, or with an email.
Most churches say they have a way to gather guest information, but only 1 in 10 say they actually follow up on that information to contact those guests.
Click To Tweet
Don't ask for something if you don't have a plan. And don't make your plan so complicated that it's hard for a staff member or volunteer to follow that plan. Whether you use a physical or digital card, a seatback pocket or a first-time guest tent, all of your first-time guest information should get funneled to the same place for the same kind of follow up.
It's about more than a database.
Our guests' future discipleship depends on our present stewardship. This conversation is bigger than an information card. It's broader than a digital strategy. It's far more valuable than a free church coffee mug.
Let's plan well for our guests so that they will feel comfortable making themselves known. And then let's do all we can to steward that information well so new guests, whether believers or not, would feel expected, accepted, and invited to return again.
Dig Deeper at Lifeway.com