There's no "one size fits all" when it comes to where people serve in the local church. But everyone is called to steward their giftings.
By Aaron Wilson & Olivia Bell
"I'm not only the president, but I'm also a client."
Sy Sperling became known for this line in a series of TV ads for Hair Club for Men that ran in the '80s and '90s. These commercials stood out because the pitchman offered proof that he personally believed in what he was selling. He had literal skin in the game and would prove it by showing off his wavy new locks at every turn.
The church provides experiences that are much more life-changing than hair-growth treatments, but many church attendees could learn a thing from Sperling when it comes to demonstrating buy-in to the message they profess. Despite saying they want to serve others, few churchgoers are even serving within the context of their own churches. Two in 3 (66%) churchgoers say they have not volunteered for a charity (ministry, church, or non-ministry) in the previous year.
Two in 3 (66%) churchgoers say they have not volunteered for a charity (ministry, church, or non-ministry) in the previous year.
Click To Tweet
To help church attendees get plugged into serving, leaders can help individuals see how their specific gifts and passions align with ministry needs. They can also cast a vision for the "why" of serving and the spiritual impact it makes. The testimonies of these 11 Lifeway employees are a reminder there's not a "one size fits all" when it comes to serving in the local church. But pastors and church leaders can walk alongside members learning to steward their giftings.
Kelly Albright, senior project manager, IT
Small groups are very important to my husband and me, as that's what brought us to Christ in 1999. For many years we've been paying that forward by leading a small group in our home and sharing life with people. I also serve in a variety of ways during the Sunday morning service. I serve on the parking team and get to be one of the first people to bring a smile to people's faces, as well as a final smile on their way out. Pouring rain or sweltering heat, we're out there helping!

I've seen myself grow when I serve. It's important to recognize there are many ways to serve and to find an area you're passionate about or you're at least comfortable with. Through serving, I've gotten to know amazing people I wouldn't have otherwise met who've encouraged me and challenged me spiritually.
Ana Hoeksema, manager marketing content creation
I'm a twelfth-grade Sunday School teacher and serve in the youth ministry. As a Sunday School teacher, I pray daily through my class roll, prepare the weekly Sunday School lessons, plan social events, and write personal notes of encouragement to the girls. My husband and I also attend as many extra-curricular activities as we can when our Sunday School kids are participating.

I believe serving the local church in any capacity is the key to getting to know the church community. It's easy to attend service on Sundays and be an observer, but those who dive into service have more opportunities to develop in community and grow spiritually.
An'Shaé Ivory, church solutions specialist
I serve as a prayer team leader, where I lead a group of individuals in weekly prayer over requests that our church receives from people all over the world. Another way I serve is as a Next Steps leader, helping new members or those desiring to know more about our church. I also enjoy serving on a team that plans events to celebrate the staff and volunteers.

Being an active member in my church makes me a better servant. And serving in church has made me a much more effective and efficient employee. I've also learned the meaning of loving my neighbor and my brethren as well as how to walk in the counsel of the wise.
Nightingale Ngo, Lifeway camps registration team
I serve at the church I grew up in, Chinese Baptist Church of Miami, Florida. My family and I have served in the church's music department since I was a little girl. I'm the organist and pianist, and I help direct the handbell choir. I also help organize music events in our church and am part of the finance department.

There's nothing like church fellowship and the ups and downs that come with it. It shows me we are imperfect, yet God chooses to use us to minister to the community (in my instance, the Chinese community in Miami) and spread the gospel.
Kimba Campbell, team lead, Bible Studies for Life Kids
I have taught preteen girls the past couple years at my church. This past year, I also had an interim role in our church's preschool ministry. I've always loved teaching children. They ask the best questions and challenge me to dig deeper in God's Word. I'm also encouraged by their child-like faith.I often get more out of serving than the people I'm ministering to, as it's a blessing to see the impact I can make and know I'm making a difference. It's also uplifting to work as a team at church as all God's saints have different gifts to offer.
Cody Prichard, church solutions specialist
I've always desired to be a missionary and am relying on the Lord to see what that looks like. In the meantime, I serve our church by leading our Great Commission team to focus on missions in our community, North America, and around the world.

I also oversee our church's student ministry, and I serve in the discipleship ministry. This includes overseeing Sunday School activities as well as our Wednesday night Bible studies for students and adults. In serving my church, I've grown to appreciate older saints who've remained faithful to Christ throughout incredible trials and suffering. They've increased my faith.
Y Bonesteele, content editor, The Gospel Project Adults
My husband and I are marriage mentors at our church. We had a nine-week training that prepared us to encounter various marriages—some that needed to be strengthened and others that were "devitalized" and needed intervention. As couples signed up through our church, we met with them weekly to go through subjects like communication, conflict resolution, money, family, and intimacy. As marriage mentors, we committed to praying for the couples and being available when needed to mediate or remind them of the communication skills we taught them.

By serving in this way, I've become a more compassionate person and am more aware of my communication skills. I've developed a better understanding of body language, tone of voice, and overall gentleness. My own marriage has benefited from the knowledge and practices we learned in communicating better and resolving conflict.
Heather Wing, financial analyst
I've recently moved, but in my previous church I was heavily involved in hospitality. I oversaw setting up the monthly communion trays and monthly potlucks. And I was able to serve as a host home for college students for meals and fellowship. I love getting to serve in hospitality because it's a tangible way to love like Jesus.

Serving has been an opportunity for me to see why God has given me certain abilities and gifts. Too often, I focus on areas I don't excel in, but I love cooking and baking for others. I now have opportunities to do that in a church setting. The more time I spend in the Word learning about God, the more I feel called to serve. In turn, serving allows me to see I'm becoming more of who God wants me to be.
Deborah Boutwell, key account representative
In high school, I was a pianist at the church my grandfather helped start. When I entered college, my family left that church to help start a mission in our community where I taught my first Sunday School class. Since then, I've served as a youth leader and at church camps, youth conferences, and mission trips. I've also been a VBS director and served on the training teams for our church's association. I've also served as a women's ministry leader and teacher.

Thirty years later, I'm back at the original church my grandfather started, praying about where God wants to use me as an older lady in my community. I recently joined a Sunday School class taught by one of the girls I taught in my first class at the mission my family helped start. I feel God calling me to be a mentor to these young ladies.
Jeremy Carroll, manager, kids ministry publishing
I serve each week in the kid's ministry at my church, co-teaching a Life Group (Sunday School) every week for a group of around 15 third graders. In this role, I prepare the lesson to help our kids understand the Bible story through media, interactive activities, and games. I also serve the fifth graders at my church during our midweek program. I teach through Lifeway Kids "Forged" Bible study to help prepare them for student ministry through deeper, age-appropriate study of God's Word.

Prior to joining the Lifeway team, I was a kids pastor and held other church staff positions over 15 years. I'm grateful that at a young age the Lord placed it within my heart to serve the church. My time serving as a volunteer and as a paid staff member enabled me to get know kids, build relationships with them, and hear how God is at work in and around them.
Aurora Garza, church solution specialist – bilingual
I serve as the children's ministry leader at my local church. My husband and I also started a weekly kid's Bible club with the goal of reaching unchurched children. Serving in the church and especially reaching out to unchurched children has challenged me to be bolder and more intentional in developing relationships with non-Christians.

My church has helped me grow spiritually and prepared me to be a better employee. I'm blessed to be part of my local church because it's my spiritual family where I've received support, counsel, encouragement, teaching, and where my family and I can serve the Lord as a family.
For permission to republish this article, contact Marissa Postell Sullivan.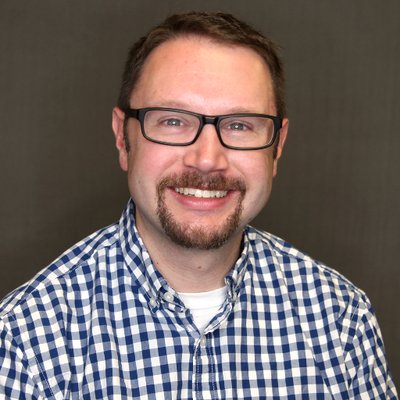 Aaron Wilson
Aaron is the internal communications manager at Lifeway and an associate editor of Lifeway Research. He and his family are members of Redeemer Church in Hendersonville, Tennessee, where they serve together in the children's ministry.
Olivia Bell
Olivia was an internal communications intern at Lifeway Christian Resources.
Dig Deeper at Lifeway.com